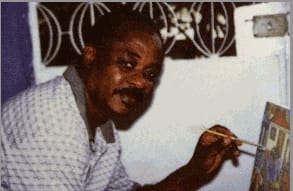 Fritzner was born in Jacmel in the south of Haiti on December 4, 1950. At a very early age he became fascinated by the work of his neighbor, Prefete Duffaut. By the early 1960's, he was apprenticed to Duffaut; his job was to paint the tiny figures that inhabited the master's canvasses). Eventually he began to paint his own paintings, passable but unremarkable waterfront scenes. Tiring of these, he moved on to farm scenes, which naturally included chickens. As time passed, the chickens grew larger and somewhat surreal and finally , in a leap, the chickens took on the characteristics of human beings. By the early 1980's when it was still very dangerous to do so, Lamour was painting political satire; poultry policemen and Ton-Tons Macoute. He was apprehensive as he transported them via tap-tap, public transportation, to the Galerie Monnin. He has since expanded his oeuvre to include other animals.
Along the way, under the tutelage of his dealer and mentor Michel Monnin, Lamour has developed a high degree of technical virtuosity. This, combined with his surrealist bent, make him one of the most brilliant members of the Haitian genre known as the School of Jacmel . His works have been purchased by patrons as diverse as the late New Age musician, Michael Hedges and former French President Francois Mitterand.
---
Exhibitions
1977 : USA : Martello Museum, Key West, Floride
: Martinique : Sermac, Fort-De-France
1980: Curaçao: Curaçao Museum, Willemstad
: Australie: Format Gallery, Adélaïde
: Belgique : Galerie Monet, Bruxelles
1982 : Italie : Mondo Naif - Centro Arte e Cultura, Bergamo
1983 : France : Musée International d'Art Naïf Anatole Jakowsky, Nice (catalogue)
: Suisse : Galerie Pro-Arte, Kasper, Morges
1984 : Suisse : Galerie Pro-Arte il gagne le lansquenet de bronze pour le meilleur tableau haïtien à l'occasion du Prix Suisse de Peinture Naïve.
1985 : France : Un instant de Paix au Café de la Paix, Paris (catalogue)
1988 : France : Galeries Nationales du grand Palais, Haïti, Art Naïf Art Vaudou. catalogue 280
(Pages239 à 246)
1989 : Allemagne : IFA Galerie, Bonn, Le Réalisme merveilleux (catalogue)
1990 : France : Dialogue du réel et de l'imaginaire » Palais du Rhin Strasbourg (catalogue)
1992 : France, « La Peinture Haïtienne à la rencontre de l'Image d'Epinal » organisée par la Galerie Monnin et la Galerie des Trois Visages, sous le haut patronnage de M. Philippe Seguin. Catalogue réalisé par l'Imagerie Epinal.
1992 : « La Rencontre des deux mondes vue par les peintres d'Haïti » exposition itinérante réalisée par la Fondation Afrique en Créations inaugurée à Séville puis présentée à Gènes, Paris, Nantes, Chambéry, Toulouse, Orléans, Montpellier, Fort-de-France, Ottawa, Détroit, Chicago, Pointe-à-Pitre, Port-au-Prince, Cap-Haïtien... (Catalogue Lamour pages 179 et 229)