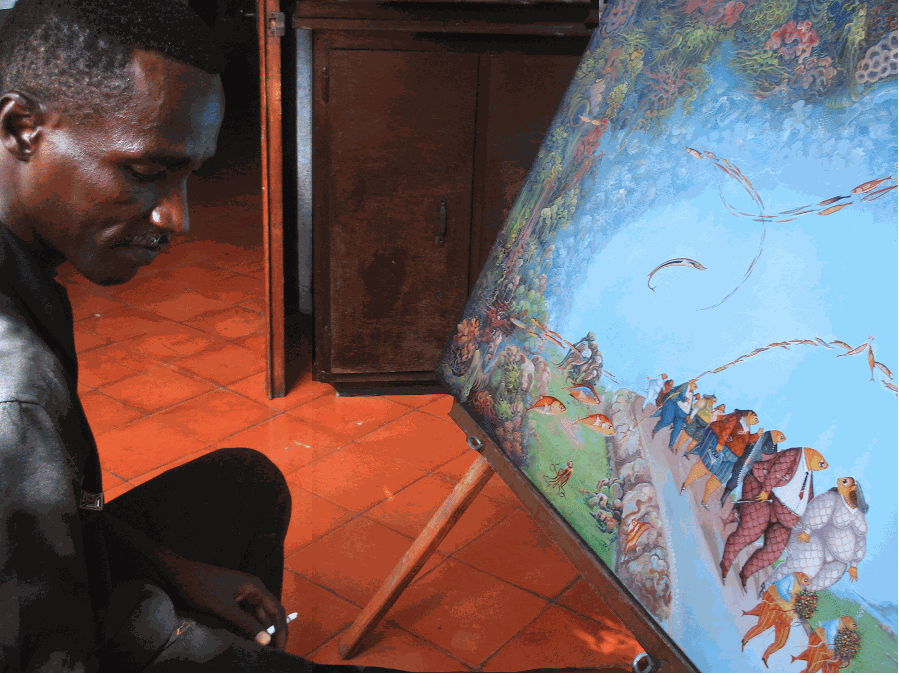 André was born in Cap Haitien in January 1961
His father was a mechanic and tax collector in the markets of LeCap and his mother a vegetable merchant Ti-Andre Blaise is the youngest of the four Blaise brothers who have been well-known painters, and with Serge Moleon, one of the two who are still alive. The other two were the internationally known St. Louis Blaise who died at age 38 of a rare blood disease (which was not AIDS) and Fabolon Blaise, who passed at age 28 of an untreated stomach ulcer.
By the time he was 12, Andre was in Carrefour, Port-au-Prince, painting in the company of his famous brothers. In the Blaise atelier It was not uncommon for the brothers to paint with 4 hands and the historical uniforms of the glorious Haitian revolutionary history hold no secrets for them.
Little by little each brother finds his style. Saint-Louis Blaise painted voluptuous women who earned him international fame, Serge Moléon Blaise specialized in historical styles and Ti-André took the plunge.
After experimenting with various styles, Andre seemed to have settled on a subject-fish. He portrays them with human characteristics , great humor and the technical virtuosity that is characteristic of the Blaise family. He takes us underwater in his underwater world where historical subjects, everyday scenes and still lifes mingle in a ballet of fish.
In early 2003, he began painting beautiful, mystical landscapes.
His recent work revolves around peculiar, humanoid fish within fantastic undersea landscapes. Of these fish, he has said "Each fish has its own character. There are the rich, the bourgeois, the lawyers in their office, the hunter with his gun, the mailman with a letter in hand, the doctor, the traveler with his suitcase, the dances and the marriages of the fish. One day I even thought of a horse fish. I find value in this style and I work with it." Like many artists, Blaise's paintings can sometimes be read as a comment upon current events. "I have been influenced by the political changes. I have not made an Aristide (Haitian president Jean Bertrand Aristide) fish, but, isn't it possible that every fish can become president?" Something of this humorous cynicism is certainly evident in his more recent work. In these well-crafted paintings, the fish have been joined by doll-like human figures. Sometimes these figures are seen walking hand-in-hand with the fish, while at other times they trail behind. In one painting we see these figures for the puppets they really are, with Blaise himself holding the strings of the puppet-master.
He has two children and lives and works in Port-au-Prince.
---
EXHIBITIONS
2013 "Pop-Up, Art Expo", Galerie Monnin, New-York, September.
2006: "Private Sale", Galerie Monnin, Casa de Campo, Santo Domingo
2006: "Haitian Art", Macondo Gallery, Pittsburgh, United States
2006: "Private Sale", Galerie Monnin, Casa de Campo, Santo Domingo
2006: "Haitian Art", Macondo Gallery, Pittsburgh, United States
2005: "Private sale" during Art Basel-Art Miami, Galerie Monnin, Miami, United States
1994: "The meeting of two worlds seen by the painters of Haiti" traveling exhibition inaugurated in Seville, then presented in Genoa, Paris, Nantes, Chambéry, Toulouse, Orléans, Montpellier, Fort-de-France, Ottawa, Detroit, Chicago , Pointe-à-Pitre, Port-au-Prince, Cap-Haitien, Dominican Republic, Mexico.
1994: "Haitian Paintings", Galerie Macondo, Philadelphia, United States
1992: "Haitian Painting at the Meeting of the Image of Epinal", exhibition organized by the Galerie Monnin and the Galerie Trois Faces under the patronage of Mr. Philippe Seguin, Nice, France
1990: "Dialogue between the real and the imaginary", Palais du Rhin, Strasbourg, France
1990: "Animaliers in the face of history", Art Center and Theater, Houston, USA
Publications:
Jean-Marie Drot, The meeting of the two Worlds seen by Haitian painters, Italy, Edizioni Carte Segrete, 1992, 63,64,65,79,86,139 p. (ISBN 88-85203-58-2)