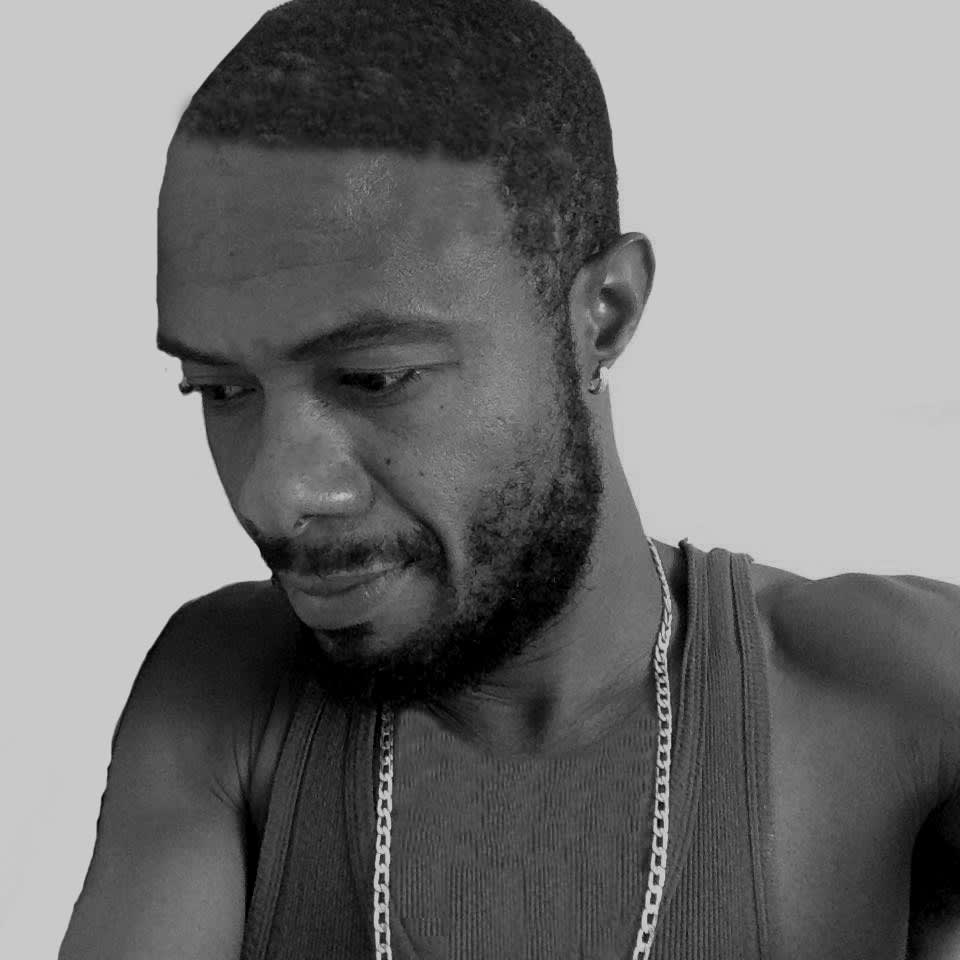 David Boyer, a native of Capricorn, was born in Port-au-Prince on January 6, 1976, from a family of six (6) children of which he is the youngest, will very early be attracted from an early age to attend the circle of pioneers of Voodoo flags: mysticism or magnetism? Boyer, teenager as a keen observer begins by drawing voodoo motifs on the encouragement of names that go without presentation in the field of voodoo flags such: Céus St Louis (alias Ti bout); Prosperous St. Louis; Luc Daniel Ceder to name just a few. Boyer, debuts in the voodoo flag a few years later like his contemporaries as an innovator transcends the stereotypical realization of voodoo flags, the artist in him rebels, from then on the demarcation is established but it is subtle, he continues to inventory all processes or methods that can allow him to properly establish his creations in an art that could be called "Art of Recovery" using all types of materials: pliers, hammers, shears etc. And of materials: table utensils, forks, spoons, broken mirror, wire irons, worn out childrens dolls, rejected etc., things that have embellished in our daily life in the past. Boyer leads us to appreciate them again. The canvas support does not matter, the only thing that counts for the artist is this new form of expression which leaves more scope for his imagination; in most of his works, his art reflects the theme and iconography of voodoo mysticism which, far from frightening, rather invites reflection, opens the bases for the relaunch of a new dialogue on the theme of voodoo, as evidenced by his works recovery on repoussé metal or a symbiosis is made between the metal and the different materials that are part of his imagination. His technique varies significantly from one work to another.
From June 2007, Boyer, a true demiurge, enthuses and amazes more than one with an original idea of ​​which he alone has the secret, when he introduced shirt buttons in most of his works, which caused a sensation and once again confirmed all the value of this artist always in search of originality. As the other said so well: "Art is not in the materials but in what we do with". Note that a documentary, "a voodoo memory" was produced on her works by the Swiss Irene Lichtenstein. He is first and foremost a member of CAABEL (Coordination des Artistes des
Craftsmen of Bel-Air).
For him, Boyer's Art is above all a means for him of multidimensional cultural transmission which takes a new look at a theme which has caused much ink to flow, namely voodoo. With Boyer's innovative work, the debate has barely opened. Note that currently most of his works are acquired by national and foreign officials, individuals.
---
EXHIBITIONS
18 Mai 2008: à la Galerie Monnin avec Pasko.
16 Août 2008: à la Galerie Monnin avec Pascale Monnin.
22 Août 2009: à la Galerie Monnin avec l' artiste Mario Benjamin. 26 Sept 2009: Résidence privée du consul Général américain (Haiti)
3 Oct. 2009: Au musée Georges Léautaud avec Barbara Prezau, Eugène Jacques
21Août 2010: à la Casa de Campo (Santo Domingo).
Décembre 2009: à la Galerie Monnin
Décembre 2010: à Haitian Cultural Arts Alliance (MIAMI) avec Duval Carrié, Lherisson Dubreica
27Août 2011: à la Galerie Monnin.
22 Février 2011: à Los Angeles (Galerie Monnin) avec une pléiade d'artistes Haitiens et Etrangers reconnus.
21 Mai 2011: à Haitian Cultural Arts Alliance avec Edgar, J" Baptiste Jn Joseph, David Boyer (MIAMI).